<< Our Services
Senegal
The Market, the Environment and Opportunities
Senegal, which has posted growth of more than 6% since 2014, is expected to maintain this momentum in the coming years, particularly in view of the start of oil and gas production scheduled for 2022.

While all sectors of the economy drove growth in 2018, it mainly benefited from three main drivers: Agriculture, boosted by support programs - robust external demand and major infrastructure investments undertaken through the Emerging Senegal Plan (ESP).

Country Presentation
Official Name: Republic of Senegal
Nature of the Regime: Republic
Head of State: Macky Sall, President of the Republic (02/04/2012)

Geographical datas
Area: 196 722 km²
Capital: Dakar
Major cities: Thiès, Kaolack, Ziguinchor, Saint-Louis, Touba
Official language (s): French
Current language (s): Wolof, Diola, Malinke, Pular , Sérère and Soninké
Currency: CFA Franc
National Holiday: April 4 (Independence)

Economic Indicators
Real GDP growth rate (1): 2019: 7.02% (estimate); 2018: 7.03%
National income / cap. in purchasing power parity (USD, 2017) (2): 3 360
Source: (1) IMF (2) World Bank.

Foreign trade
Trade Merchandise Exchanges (2018, EUR billion, change over 2017):
Export: 2,519 (+ 11.29%)
Import: 5,934 (+ 10.17%)

Cinq premiers fournisseurs (avec part de marché) :
1 – France 14,67%
2 – China 12,41 %
3 – Nigeria 9,99 %
4 – India 5,55 %
5 – The Netherlands 5 %

(French exports 2018: EUR 0.820 billion, +8.17%)
Source: IHS Markit Global Trade Atlas.

Economic datas
GDP (2017): $ 16.37 billion
GDP per capita (2017): $ 1,033
Growth rate: 6.5% in 2015, 6.6% in 2016, 7.2% in 2017
Inflation rate: 2 % in 2016 (World Bank)
Main clients (2015): Mali, Switzerland, India, Côte d'Ivoire (GTA-GTIS)
Main suppliers (2015): France, Nigeria, China, India (GTA-GTIS)

Economic situation
These favorable prospects are confirmed by the IMF, which however highlights the weight of the debt service, which should absorb 30% of state revenue in 2017 (24% in 2014).
The public debt has indeed exploded, rising from 46.9% of GDP in 2013 to 61.1% of GDP in 2017. For sustainable and sustainable growth, the IMF advocates the increase of private investment, the support of SMEs and the establishment of a special economic zone (ZES)..

The country has gained seven places in the Doing Business 2018 rankings, ranking just behind Côte d'Ivoire, in 140th out of 190.

In the Finance bill for 2018, the budget is up 10% to 3 709 billion (billion) F CFA *. It still gives pride of place to public investment, which increases by 9.3% to 1,339.5 billion CFA francs, but also to the social sectors, including the National Family Security Scholarship Program, with 1,161 billion CFA francs.
Growth is projected at 7% and the public deficit anticipated at -3.5% of GDP.

Senegal is the second largest economy in francophone West Africa behind Côte d'Ivoire. The problems of employment, cost of living, quality of public services, provision and cost of electricity and water supply remain the primary concerns of Senegalese.

The primary sector (15% of GDP, 50% of the active population) remains particularly exposed to the vagaries of the weather and the volatility of world commodity prices. The authorities wish to develop agricultural activity along the Senegal River, which is already home to sugar cane cultivation, with a view to increasing rice production to become self-sufficient and to intensify market gardening for domestic consumption or export.

The secondary sector (21% of GDP) is mainly based on gold mining, phosphates, cement, agro-food and construction. Recent discoveries in oil and gas fields are expected to increase this percentage in the near future.

Tertiary activities (64% of GDP, public service included for 20%), in which telecommunications occupy a prominent place, remain strongly dominated by the informal sector.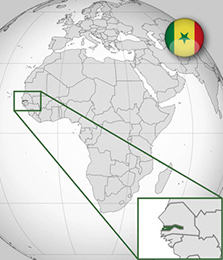 Contact Us
OUR SERVICES